What people say about us!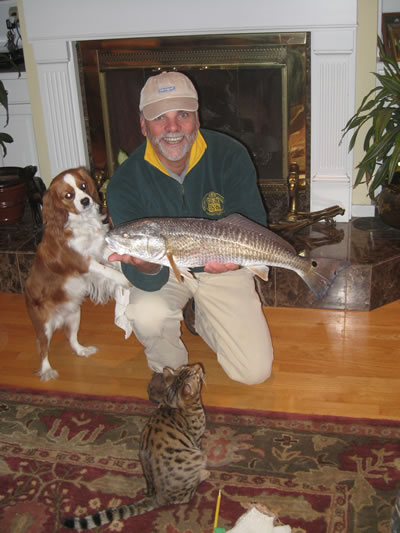 Edw: "I think Hobbes wants to eat the fish..."
Amy: "Hey Krista! You would not believe how big Mojo is now. Star is bigger... They are both great! ... Take care!"
C: "Blue (now named Captain Nathan Soybean Donohue the Great) is doing WONDERFULLY... He plays a LOT, sleeps a LOT, snuggles whenever he's between play and sleep, and learns very quickly. He's a smart little guy… He has a ton of personality. He's getting along well with Ellie… He NEVER claws anyone, which is awesome… Oh - and just an example of how easygoing he is - he will let Ellie put him in her baby stroller and cart him around the house. He doesn't even try to jump out, he just sits in the stroller and takes a ride. He'll do it for like 10, 15 minutes at a time. I really have to say, I think we got the PERFECT cat. He fits in so well - he's mouthy, independent, and mischevious, but he's still super loving and snuggly and affectionate at the same time. I can't imagine anything that would make him more perfect. We LOVE him… I never thought I could love a cat like this. He crawled right into my heart. THANK YOU."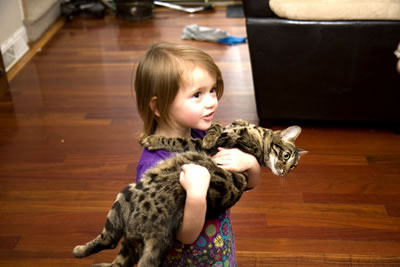 A: "I knew Cher would make a great therapy cat!"
Carlos & Rosanna: "Puka is doing great playing a lot and getting use to her new surroundings. Thanks for everything. We 'll keep in touch."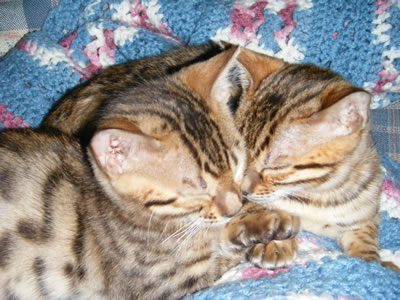 Beth: "The kittens are Wonderful!!!! We absolutly adore them. They have such personality. Right from the start they were following each other around everywhere. Well, Aloha's Blue, whom we've named, Daytona (becouse he's sooooo fast), follows Jasmine's Blue (Cappuccino) everywhere, even the litter pan!! They are both playing fetch and sleep together all the time. Adorable! They getting along quite well with our other cats too. They will chase each other around the house some... Our daughter does love them! She picks them up all the time. They jump up on our laps all the time too. That is nice for us as our others don't do that much... As I'm writing this Daytona is on my lap warming it and sleeping soundly. He sends a purr. Have a great Thanksgiving Krista!"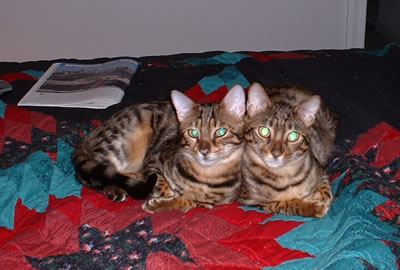 Katherine: "I just wanted to let you know that the kittens are doing well; Doug says he's never seen cats that are absolutely not afraid of anything! They are very playful and curious. Zahir, the little guy, is still smaller and fuzzier than his big brother Rafiq, but we've found some foods he likes he's gaining weight. Doug keeps saying he's a vegetarian kitty--he doesn't seem to like any of the "meaty" foods or dry food yet, but he loves the fish-type foods and eggs. (Maybe that's just his way of getting his own food and not having to compete with Rafiq, who eats all of the dry food! ) We really love both of them!"
Casey: "I absolutely LOVE Nala (that's the kittens final name...It takes me a few days to pick a name!!!) She is beautiful, intelligent and playful!!! She is so smart, Krista. I just love the breed. I am taking her for her first vet appointment to get her her next set of shots next week. She is growing up beautifully. Caroline and her get along sooo well. They play all day long. Sometimes they drive me crazy though, but I much prefer that to a quiet house. :) She doesn't get along with Gabriel though, so I separate them while I'm at work. They get into some scuffles, but nothing major. I just don't want them to get in a blow out fight while I'm at work. Nala is just curious about her, but to Gabriel it's a violation of her turf. Gabriel is definitely getting use to her though. Its just a big change"
Leslie: "We are just ecstatic over our new little baby. I think that he is the sweetest, most well-adjusted cat I've owned (and I've owned several). Our other bengal is much happier having him around, too."
Susan: "She is so sweet and I am so glad that I chose this breed of cat. She is sleeping in my lap right now while I am typing this to you."
Laura: "My husband and I cannot get over how beautiful soft and silky he is! He DOES have a gorgeous glittered coat and his markings have great contrast. I would think that it will get only more beautiful."
Betty: "Our main concern was to get a cat that would like our dog and could handle our little girl. Cait is always dragging Leo around and he has yet to hurt her. He also is pleasing to my husband who doesn't like sissy pets and Leo is so cool looking. Everyone who sees him thinks he is the sweetest and gorgeous cat. He already comes to his name. We also love the fact that he doesn't run away when we want to hold him all the time."
Eddie: "I couldnt have found a better kitten anywhere else. She is verry lovable and anything that a person could ask for. Thanks for supplying me with such a great kitten She is the BEST"
Pam: "She is so sweet and I am so glad that I chose this breed of cat. She is sleeping in my lap right now while I am typing this to you. Tell the kids that Jasmine is very happy with her new home but misses them and that they did a great job showing her love because she is very very lovable and well behaved.:)"